Key data
Area: 719.2 sq.km
Population: 5.792 million (2018)
Languages: English, Malay, Mandarin and Tamil
GDP (PPP): $528.1 billion (2017 est.)

Location and climate
It lies at the southernmost tip of continental Asia, one degree (137 km) north of the equator, and is separated from Peninsular Malaysia by the Straits of Johor to the north and from Indonesia's Riau Islands by the Singapore Strait to the south. Singapore's territory consists of the diamond-shaped main island (commonly referred to as Singapore Island and Pulau Ujong in Malay) and more than 60 significantly smaller islets.
No one (with any pride) complains about being cold.
With year-round temps around 32C (90 F), and almost never dipping below 23C (74 F), no winter clothing is required -- except inside the occasionally over-air-conditioned shopping mall or restaurant.

Singapore model
Singapore developed rapidly as an Asian tiger economy, based on external trade and its human capital.
The nation's core principles are meritocracy, multiculturalism and secularism.
Singapore is consistently ranked as one of the least corrupt countries in the world, along with New Zealand and the Scandinavian countries.It is noted for its effective, pragmatic and incorrupt governance and civil service, which together with its rapid development policies, is widely cited as the "Singapore model".
Racial and religious harmony is regarded by Singaporeans as a crucial part of Singapore's success, and played a part in building a Singaporean. Republic for its low crime levels and absence of political violence, anti-corruption levels and regulatory enforcement capabilities. Aggressively polite peer pressure - Be Courteous, Speak English, Speak Mandarin, Stop Dengue, Save Water, Stop Littering, Be Kind, Don't Spit. So, Singapore has a reputation as a nanny state.
The national flower of Singapore is the hybrid orchid, Vanda 'Miss Joaquim', named in memory of a Singapore-born Armenian woman, who crossbred the flower in her garden at Tanjong Pagar in 1893.
Economy
The country is the world's fourth leading financial centre, the world's second largest casino gambling market, one of the world's top three oil-refining centres, the world's largest oil-rig producer, and a major hub for ship repair services.
The World Bank has named Singapore as the easiest place in the world to do business, and ranks Singapore the world's top logistics hub.
The economy depends heavily on financial services, manufacturing, oil-refining. Its top exports are refined petroleum, integrated circuits and computers.
Singapore's largest companies are in the telecoms, banking, transportation and manufacturing sectors, many of which started as state-run enterprises. Major ones are: Singapore Telecommunications (Singtel), Singapore Technologies Engineering, Keppel Corporation, Oversea-Chinese Banking Corporation (OCBC), Development Bank of Singapore (DBS), United Overseas Bank (UOB).
Tourism also forms a large part of the economy, with over 15 million tourists visiting the city-state in 2014. Singapore also promotes itself as a medical tourism hub: about 200,000 foreigners seek medical care there each year. Singapore medical services aim to serve at least one million foreign patients annually and generate USD3 billion in revenue.
History
The islands were settled from the second century AD by a series of local empires. In 1819, Sir Stamford Raffles founded Singapore as a trading post of the East India Company; then part of its Straits Settlements in 1826. It became independent from Britain in 1963 by uniting with other former British territories to form Malaysia, but was expelled two years later to become Singapore over ideological differences.
The cosmopolitan and culturally diverse nation is home to 5.5 million residents, 38% of whom are permanent residents and other foreign nationals. Singaporeans—Chinese (74.1%), Malays (13.4%), Indians (9.2%), and Eurasians—are mostly bilingual, with English as its common language and a second mother-tongue language.

Health
Singapore has a generally efficient healthcare system, even though their health expenditures are relatively low for developed countries. The government's healthcare system is based upon the "3M" framework. This has three components: Medifund, which provides a safety net for those not able to otherwise afford healthcare, Medisave, a compulsory health savings scheme covering about 85% of the population, and Medishield, a government-funded health insurance program.
Education
At the national level in Singapore, meritocracy, where one is judged based on one's ability, is heavily emphasised. Singapore is an education hub, and in 2009, 20% of all students in Singaporean universities were international students. English is the common language, and is the language of business, government, and the medium of instruction in schools.
Unique to Singapore
It is the world's top meeting city and Asia's top convention city since 2002.
It is the "City with the best investment potential"
Best known global brands include Singapore Airlines (SIA) and Changi Airport (An airport people love - consistently voted the world's best airport).
No waiting around at airports or staions. Singapore trains always run on time. Known for its best public transport system.
More taxis than you knew existed. With close to 30,000 official taxis servicing a population of fewer than 5.5 million people, it's usually easy to get a ride. It's rare for a ride to be far enough away from anywhere that it costs more than US$30.
One of the five founding members of the Association of Southeast Asian Nations (ASEAN), Singapore is also the host of the Asia-Pacific Economic Cooperation (APEC) Secretariat, and a member of the East Asia Summit, the Non-Aligned Movement, and the Commonwealth of Nations.
Fashion Week and Cocktails
Singlish is a blend of the country's many languages and dialects, including the Queen's English, Bahasa Melayu, Tamil, Hokkien, Teochew, Cantonese, Bengali and Punjabi.
Sentosa Island has sandy beaches, resort hotels, a marina, beach and yacht clubs, adventure parks and historic displays -- and it's reachable by bridge from mainland Singapore.
Singapore, "nightlife" has many meanings. Singapore's Night Safari is the world's first nocturnal safari park. It showcases more than 2,500 animals in their natural nighttime habitats.
Celebrations - With a population spanning Chinese, Malay, Indian, Caucasian and others, the religions of Singapore include Buddhism, Islam, Hinduism, Sikhism and Christianity. That adds up to a lot of cultural and religious festivals and public holidays. Beauty of a beach bar - Street food for timid eaters
World's freakiest theme park - Singapore's most bizarre attraction is Haw Par Villa.
Play dates for adults - With the Universal Studios Singapore and MegaZip zip line at Sentosa, the KF1 Karting circuit at Kranji, casinos at Marina Bay Sands and Resorts World Sentosa and water parks
Supertrees - 18 man-made "trees" between 25 and 50 meters tall, each loaded up with intricate vertical gardens.
National Anthem
Mari kita rakyat Singapura
Sama-sama menuju bahagia
Cita-cita kita yang mulia
Berjaya Singapura
Marilah kita bersatu
Dengan semangat yang baru
Semua kita berseru
Majulah Singapura
Majulah Singapura
Marilah kita bersatu
Dengan semangat yang baru
Semua kita berseru
Majulah Singapura
Majulah Singapura

English version:
Come, fellow Singaporeans
Let us progress towards happiness together
May our noble aspiration bring
Singapore success
Come, let us unite
In a new spirit
Together we proclaim
Onward Singapore
Onward Singapore
Come, let us unite
In a new spirit
Together we proclaim
Onward Singapore
Onward Singapore

Some web sites
https://en.wikipedia.org/wiki/Singapore
one stop government website, www.sg,
National Library - www.nlb.gov.sg
www.todayonline.com/
www.asiaone.com
www.singapore-guide.com/
http://www.yoursingapore.com/
Singapore Tourism Board - https://www.stb.gov.sg/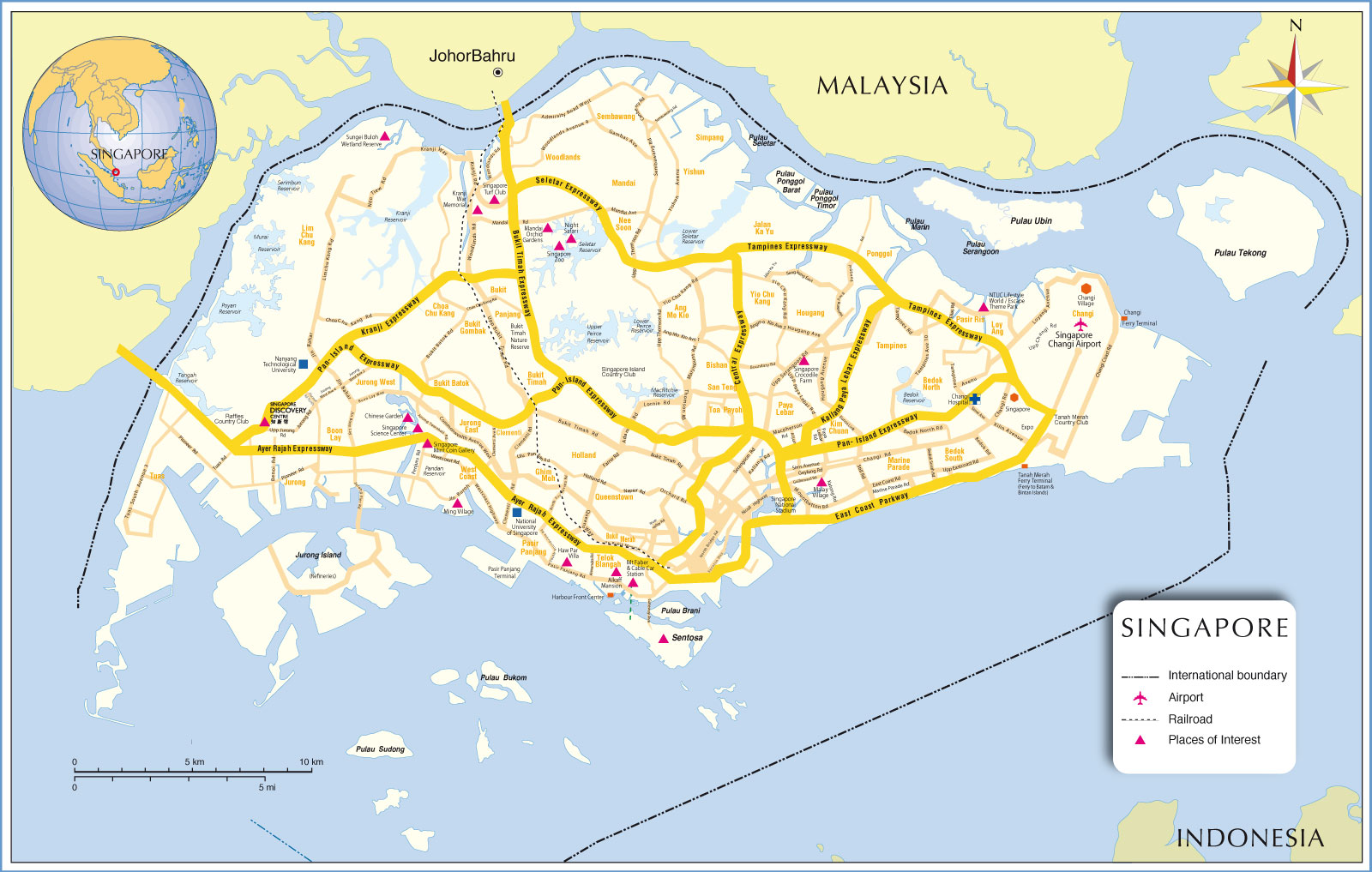 Link: nationsonline.org

---

Administrator:NARA is a Consultant by profession and an Engineer by qualification. Nara holds an Engineering Masters degree and have worked 25 years for leading organizations.
Now working part time on country/technology research projects and Maintaining community Web sites.
Spending more time to pursue his interests on studying: ancient scriptures; maths & astronomy; physics; philosophy; history & culture and so on.
---